Introduction to Comtex
Comtex Security has been operating for more than 10 years in the Security industry. Our main objective is to support our valued customers and to supply them with state of the art equipment that meets their requirements. We operate a 24/7 service department that is always on call.
Major projects are a large part of our business. Installation of security monitoring systems and CCTV across multi level buildings, as well as projects as diverse as mining sites and residential apartment blocks, are a regular part of our business.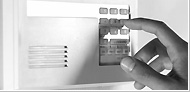 We can provide custom security solutions tailored to suit your requirements. We specialise in electronic access control systems (including systems integration and design).
Read more